TOUR ITINERARY
HIGHLIGHT OF MYANMAR
Yangon (The Garden City )

In the past 300 years back, Yangon is only a small fishing village called Dagon.

Shwe Maw Daw Pagoda

It is believed to be built in BC 400. The height of this pagoda is 114 meters.
YANGON - KYAIKHTIYO - BAGO - BAGAN - MANDALAY - INLE - YANGON
( 11 Days/ 10 Nights)

Day.01 Yangon Arrival ( By Morning Flight )
On Arrival at Yangon airport, meet with our guide and transfer to hotel. Start the sightseeings includes the old colonial-style buildings in city center, the gilded Sule Pagoda, dating back over 2,000 years. Enjoy the evening at the Shwedagon Pagoda, world famous golden stupa in the dome shape rises 98 meters above its base and covered with 60 tons of pure gold. Overnight at Yangon.


Day.02 Yangon Sightseeing
After breakfast at the hotel, visit to Kaba Aye Pagoda means " World Peace ", the Buddhist Art Museum and Maha Pasana Cave. Afternoon visit to Chauk-htat-kyi Reclining Buddha Image, Botataung Image, the Landmark of Yangon's waterfont and Bagyoke Aung San Market, the main shopping center of the city and then walk along the China Town. Overnight at Yangon.

Day.03 Yangon – Kyaikhtiyo ( By Car )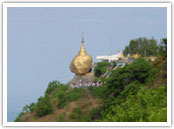 After breakfast at the hotel, drive to Kyaikhtiyo pagoda ( Golden Rock ) On the way visit Shwe Nyaung Bin Nats' Shrine near Yangon. Proceed to Kyaikhtiyo ( known as Golden Rock ) Pagoda stands on a gold gilded boulder, precariously perched on the edge of the hill over 1100km above sea level. From the base camp
( Kin-pun-sakan ), take 45 minutes truck car ride up to the Rathedaung transit camp and check-in the hotel. Enjoy the sunset from the platform of the Pagoda. Overnight at Kyaikhtiyo.
Day.04 Kyaikhtiyo - Bago - Yangon ( By Car )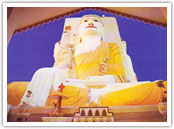 After breakfast at the hotel, walk down to Rathedaung and a down-ride to the base camp. From there drive back to Bago, ancient MON Capital. Continue to Bago and sightseeing include Shwemawdaw, one of the most venerated pagodas in Myanmar, Shwethalyaung, the most life like reclining Buddha image and Kyaikpun Pagoda, which was built in 15 century by King Damazedi famous for its background story and 4 giant sitting images back to back. On the way back to Yangon, visit to Pottery making workshop. Overnight at Yangon.

Day.05 Yangon - Bagan ( By Yangon Airways, HK.917, 06:30-07:50 )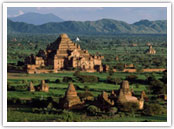 After breakfast at the hotel, transfer to aitport for fly to Bagan. On arrival Bagan sightseeing to the coloueful Nyaung Oo Market; Shwezigon Pagoda , the prototype of later stupas ; Kyansittha U-min, a tunnel with interesting paintings; Wetkyi-in Gubyaukkyi Temple, with fine mural paintings of Jataka scenes and Htilolinlo Temple, noted for its plaster carvings. In the afternoon visit to Manuha Pagoda and lacquer ware work shop. End of the day, enjoy the sunset on the boat along the Ayewarwaddy River. Overnight at Bagan.

Day.06 Bagan Sightseeing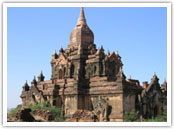 After breakfast at the hotel , sightseeing by horse carriage along the ancient pagodas and Temples. Visit to Ananda Temple , an architectural masterpiece resembling a Greek cross and Anada Okkyaung, a brick monastery with 18 th Century mural paintings.
Afternoon visit to Minnanthu Village area. Tour highlights : Laymyethna Pagoda and Monastery, Payathozu Temple, with the colorful paintings, Tayokepyay Temple, noted for its plaster carvings and one can see the panoramic view from the top of the Temple and Nandapinnya Temple together with cave monastery. Overnight at Bagan.

Day.07 Bagan -Mandalay Sightseeing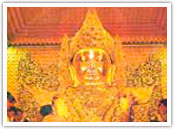 After breakfast at the hotel, transfer to Nyaung U airport for fly to Mandalay. On arrival Mandalay, visit to venerabls Mahamuni Pagodas and Myanmar traditional handicraft workshops such as marble, wood carving, gold leaf and tapestry.
Afternoon visit to Shwenandaw (Golden Palace) Monastery, noted for its exquisite wood carving, Kuthodaw Pagoda, know as the World's Biggest Book for its stone slabs of Buddhist scriptures and enjoy the sunset at the Mandalay Hill. Overnight at Mandalay.

Day.08 Mandalay – Mingun – Sagaing- Mandalay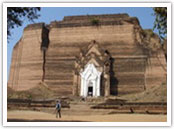 After breakfast at the hotel, boat excursion to Mingun across the Ayeyarwaddy river and visit to Pahtodawgyi, an enormous pile of Bricks is all that remains of King Bodawpaya's grandiose scheme, the world largest ringing bell weighing 90 tons and continue to visit attractive Sin Phyu Mae Pagoda built in 19 century by King Bodawpaya's grandson in memory of one of his beloved wife. Return to Mandalay.
Afternoon continue to Sagaun where is covered with 600 white-p[ainted pagodas & monasteries and widely regarede as the religious centre of Myanmar and is home to 3000 monks and 100 meditation centers. Visit around the Sagain Hill and drive to Si Ta Gu Buddhist University where you have to stay for one night. In the evening discuss about the Buddhism with the high monks and Buddihist teachers. Overnight at Mandalay.

Day.09 Mandalay – Heho – Inle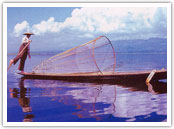 After breakfast at hotel, transfer to airport for fly to Heho. Arrival Heho airport, transfer to Nyaung Shwe Jetty and take the boat to Inle Lake. In the afternoon sightseeing tour of Inle Lake including a chance to see the leg-rowing Inthars' fishermen and the floating gardens that built up from strip of water and mud and anchored to the bottom ples. Continue to visit Phaung Daw Oo Pagodas; the stiled village of Ywama to visit its silver smith workshops; the Nga Phe Kyaung village to visit its floating garden and "Jumping Cat" teak monstery containing 16th and 17th century Lacquer Buddha Images. Also visit Inn Paw Khone village where traditional silk waeving is produced, Nam Pan Village with its cigar (cheroot) factory and blacksmith. Overnight at Inle.

Day.10 Inle - Indein - Inle
After breakfast at the holel, boat excursin along a small canal leading up to the village of Inn Dein and visit to Shwe Indein Pagodas. Enjoy the Picnic lunch near the stream. In the afternoon walk around the villages at the base of the mountain.
Overnight at Inle.

Day.11 Inle – Heho – Yangon
After breakfast at the hotel, transfer to Heho airport for flight back to Yangon. Upon arrival at Yangon airport, transfer to hotel for take a small rest. After that visit to scott market for shopping. In the evening, transfer to Yangon International Airport for depature flight.